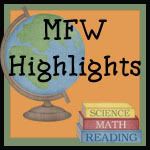 Highlights
Our

Hymn

for this week is: Stand Up, Stand Up for Jesus
I love this part of the lyrics:
"Stand up, stand up for Jesus,
The trumpet call obey;
Forth to the mighty conflict
In this His glorious day.
Ye that are men, now serve Him
Against unnumbered foes;
Let courage rise with danger,
And strength to strength oppose.
In

Bible

, we are studying a variety of verses including John 13, 1 Peter 2 and Romans 5.
We are using the book A Young Person's Guide to Knowing God this year.
Our Memory Verse for this week is: John 13:15
For I have given you an example,
that ye should do as I have done to you.
***
In

History

,
The Crystal Palace
We also did the Enfield rifle activity...
Our Enfield "cartridge"
A very rough, unedited *gasp* video.
From

The U.S. History Cookbook

,
Victorian Tea!
Science

will be in a different post.
That was Week 3.
I hope your week last week was blessed.
Thanks for stopping by!