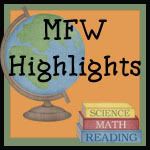 Highlights
Our

Hymn

for this week is: Stand Up, Stand Up for Jesus
Our current

Read Aloud

is: Courage To Run-which we have yet to start.
In

Bible

, we are studying a variety of verses including Galatians 2 and Romans 5.
We are using the book A Young Person's Guide to Knowing God this year.
We, in reviewing, also read about David Livingstone and Hudson Taylor.
Our Memory Verse for this week is: 1 John 3:16
Hereby perceive we the love of God,
because he laid down his life for us:
and we ought to lay down our lives for the brethren.
In

History

, we learned Italy becoming united after secret societies and several battles.
Charlotte has a Char-toon:
In

Science

, from a week ago, we finally did the DNA stranding experiment with onions...