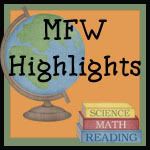 Highlights
To link up or view other Highlights, click HERE
Our

Hymn

for this week is: What A Friend We Have in Jesus
It's been such a blessing!
In

Bible

, we are studying a variety of verses including 1 John, Colossians and John 1.
We are using the book, A Young Person's Guide to Knowing God, this year.
I love the stories... especially the one that drove the point home that
we belong to God twice-- He created us and bought us back!
Our first

Memory Verse

is: 1 John 3:1
Behold, what manner of love the Father
hath bestowed upon us,
that we should be called the sons of God:
therefore the world knoweth us not,
because it knew him not.
What is great about this verse is we already sing a song about it at church.
We really only had to memorize the last part because we knew the first part!
My illustration for the second part was this:
If a large group of adults and children were all mixed up together,
they would have a hard time determining which children belonged to which parents.
But if Karl and I were in the group and their siblings were also in the group,
they would recognize their siblings because they all have the same parents-- us!
As children of God, we "know" each other because we have the same, perfect,
holy Heavenly Father.
***
In

History

,
we finished up learning the states and I have to say how impressed I am!
Here are the pretests I gave them before we first started school.
Elijah's...
Here is Charlotte's...
They both knew a little less than half of the states.
This week we plugged along with the state cards...
They enjoyed playing States rummy until we added the middle states.
Then it got kinda confusing!
They finished up adding the state postal codes to their maps...
Today was the big "test" day!
So impressed!
They both got 100%.
Here is Charlotte's
And Elijah's...
So excited!
***
In

Science

(5th grade), we did do the experiment from last week with chemical changes
and milk proteins.
This lovely mixture is warm milk, food coloring, and vinegar.
I didn't have any pantyhose and the Dollar Tree was closed.
Papa had cheese cloth-- perfect!
This is the draining of our byproduct...
Here is the E man working hard on his science notes.
All drained!
He asked for gloves... he said it looked disgusting ;)
I don't know what happened to my cookie cutters??!!
But I had some bento box making supplies and used a flower shaper/cutter thingy.
It was fine :)
They LOOKED tasty... everyone kept thinking they were something to eat.
But one whiff... um, no.
Charlotte and Elijah have both started Writing Strands.

And they are plugging along in Math and English.
I think that about sums up the week.
Having these highlights "premade" is working out very nicely!!
Thanks for stopping by!