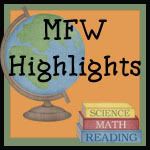 Highlights
Our

Hymn

for this week is: What A Friend We Have in Jesus
I can't even tell you how much these lyrics ministered to me this week.
"Have we trials and temptations? Is there trouble anywhere?
We should never be discouraged; Take it to the Lord in prayer."
In

Bible

, we are studying a variety of verses including Psalms 32 and119; Luke 15, Genesis 1 and Titus 2. We are using the book A Young Person's Guide to Knowing God this year.
We are loving this book! The simple stories illuminate truths and help you remember them.
Good stuff!
In

History

,
Washington,
Idaho,
Montana,
North Dakota,
Minnesota,
Wisconsin,
Michigan,
Ohio,
Pennsylvania,
New York! Vermont!
New Hampshire and Maine!
Yes, I, er, I mean the children know the Northern Border,
as well as the Southern Border of the United States.
Some think the songs are annoying-- we think they are highly effective!
In

Science

(5th grade), we are learning about atoms and chain reactions.
I'm off to the Dollar Tree right this second for pantyhose to do our first experiment.
Photos to come!
In

Science

(7th grade), Charlotte has an update all her own-- it's here if you missed it.
It was a great first week of school. Soccer and ballet have started up and I'm
carving out time to do some extensive meal planning!